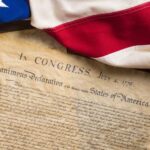 Declaration of Independence (Part 1)
What is the biblical dependence of the Declaration of Independence? There are two ways people usually swing, either the Declaration of Independence is solely based on biblical beliefs, or there is none whatsoever. The Declaration of Independence has no mention of God, however, it does have religious phrasings such as Creator (with a capital C) and the "law of nature". All of this plus more in the Declaration of Independence Part 1!
Additionally, a Money Monday update with David Fischer of Landmark Capital Gold. Hear about the neverending issues with China and America and the rising value of Gold. For more updates, make sure to check out – landmarkgold.com
Donations
Here at The Steve Noble Show, we wish to spread the good news of the Gospel to all nations through the airwaves. This mission, like other missions, requires funding. The main funding of the show and this mission is from donations of listeners. So, we prayerfully and humbly ask to donate if you are so convicted to – www.thestevenobleshow.com/donate
Thank you and God Bless
The post Declaration of Independence (Part 1) appeared first on The Steve Noble Show.